Nashville Songwriter & Country Music Artist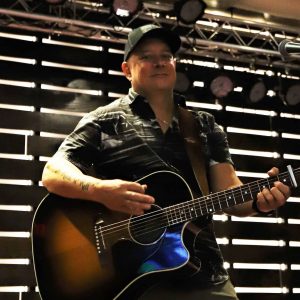 Rick Hamel is a singer/songwriter/recording artist living in Nashville, TN. Although his original songs are best described as "Country Rock", he is equally adept as a cover song artist as a songwriter playing hundreds of cover songs from all genres of music. Rick has been playing music for most of his life, learning to play the guitar at a very young age. He fronted bands as a teenager and studied music theory and performance at Boston University and songwriting at Berklee College of Music.
Rick plays hundreds of shows a year and is available to play as solo acoustic using looping techniques to sound like a one man band or as a duo with a female singer or in a full band setup.
Rick currently resides in Nashville, Tennessee
Videos
Videos of Rick playing solo acoustic, as a Duo and with The Band
Cover Song List
Title
Artist
3am
Matchbox 20
5 O'Clock Somewhere
Alan Jackson
7 Summers
Morgan Wallen
8675309
Tommy Tutone
After Midnight
Eric Clapton / J.J. Cale
Ain't No Sunshine
Bill Withers
Ain't Worth The Whiskey
Cole Swindell
All Along The Watchtower
Jimi Hendrix
All For You
Sister Hazel
All of Me
John Legend
All Summer Long
Kid Rock
All The Small Things
Blink 182
Amanda
Boston
American Girl
Tom Petty
Angel From Montgomery
John Prine
Babylon
David Gray
Bad Bad Leroy Brown
Jim Croce
Bad Fish
Sublime
Barefoot Blue Jean Night
Jake Owen
Barely Breathing
Duncan Shiek
Beautiful Crazy
Luke Combs
Beer Never Broke My Heart
Luke Combs
Behind Blue Eyes
The Who
Black
Pearl Jam
Blister in the Sun
Violent Femmes
Body Like a Back Road
Sam Hunt
Bottom's Up
Brantley Gilbert
Boulevard of Broken Dreams
Green Day
Boys of Summer
Don Henley
Brian Wilson
Barenaked Ladies
Broken Halos
Chris Stapleton
Brown Eyed Girl
Van Morrison
Buy Me A Boat
Chris Janson
Call Me
Blondie
Can't Always Get What You Want
Rolling Stones
Can't Help Falling in Love
Elvis
Can't You See
Marshall Tucker Band
Chasing Cars
Snow Patrol
Chattahoochee
Alan Jackson
Chicken Fried
Zac Brown Band
Closer
Chainsmokers
Closing Time
Semisonic
Colder Weather
Zac Brown Band
Collide
Howie Day
Come Monday
Jimmy Buffett
Come On Get Higher
Matt Nathanson
Come Over
Sam Hunt/Kenny Chesney
Comfortably Numb
Pink Floyd
Country Girl
Luke Bryan
Country Roads
John Denver
Cover Me Up
Morgan Wallen
Craving You
Thomas Rhett
Cruise
Florida Georgia Line
Dixieland Delight
Alabama
Don't Stop Believing
Journey
Drift Away
Dobie Gray
Drink In My Hand
Eric Church
Drinkin' Problem
Midland
Drunken' Sailor
Irish Traditional
Dust On The Bottle
David Murphy
East Bound and Down
Jerry Reed
Even If It Breaks Your Heart
Eli Young Band
Everlong
Foo Fighters
Every Rose Has it's Thorn
Poison
Family Tradition
Hank Williams Jr.
Family Tradition
Hank Williams Jr.
Fast Car
Tracey Chapman
Feathered Indians
Tyler Childers
Feel It Still
Portugal The Man
Feel Like Makin' Love
Bad Company
Fire and Rain
James Taylor
Fisherman Blues
The Waterboys
Fishin' In The Dark
Nitty Gritty Dirt Band
Fly Me To The Moon
Frank Sinatra
Follow You Down
Gin Blossoms
Folsom Prison Blues
Johnny Cash
Forever Man
Eric Clapton
Found Out About You
Gin Blossoms
Free Bird
Lynyrd Skynyrd
Free Fallin'
Tom Petty
Friend of the Devil
The Grateful Dead
Friends In Low Places
Garth Brooks
Galway Girl
Steve Earle
Good Riddance
Green Day
Hard To Handle
Black Crowes
Hard To Love
Lee Brice
Have I Told You Lately That I Love You
Rod Stewart
Have You Ever Seen The Rain
CCR
Heart of Gold
Neil Young
Heartbreak On The Dance Floor
Jon Pardi
Hey Jealousy
Gin Blossoms
Hey Jude
The Beatles
Ho Hey
Lumineers
Hotel California
The Eagles
Hurricane
Luke Combs
I Don't Know About You
Chris Lane
I Remember You
Skid Row
I Shot The Sheriff
Bob Marley
I Want it That Way
Backstreet Boys
I Want You to Want Me
Cheap Trick
I'm On Fire
Bruce Springsteen
If You Could Only See
Tonic
If You Could Only See
Tonic
Imagine
John Lennon
In My Life
The Beatles
Iris
Goo Goo Dolls
Is This Love
Bob Marley
It Goes Like This
Thomas Rhett
Jessie's Girl
Rick Springfield
Knockin' On Heaven's Door
Bob Dylan
Kryptonite
3 Doors Down
Lady
Kenny Rogers
Landslide
Fleetwood Mac
Learn To Fly
Foo Fighters
Learning To Fly
Tom Petty
Let Her Cry
Hootie and the Blow Fish
Let it Be
The Beatles
Like A Stone
Audioslave
Like A Wrecking Ball
Eric Church
Living on a Prayer
Bon Jovi
Love Song
The Cure
Love Your Self
Justin Bieber
Lucille
Kenny Rogers
Margaritaville
Jimmy Buffet
Mary Jane's Last Dance
Tom Petty
Midnight Rider
Allman Brothers
Millionaire
Chris Stapleton
More Than My Home Town
Morgan Wallen
Mrs. Robinson
Lemonheads / Simon and Garfunkel
My Girl
Dylan Scott
My Kinda Party
Jason Aldean
Neon Moon
Brooks and Dunn
Old Man
Neil Young
Old Town Road
Lil' Nas X
One
U2
Only the Good Die Young
Billy Joel
Piano Man
Billy Joel
Pirate Looks At 40
Jimmy Buffet
Polly
Nirvana
Purple Rain
Prince
Ring Of Fire
Johnny Cash
Riptide
Vance Joy
Rocket Man
Elton John
Rocky Top
Osborne Brothers
Roxanne
The Police
Sand In My Boots
Morgan Wallen
Sangria
Blake Shelton
Save Tonight
Eagle Eye Cherry
Semi Charmed Life
Third Eye Blind
Shallow
Lady Gaga and Bradley Cooper
Shape Of You
Ed Sheeran
She's a Little Runaway
Bon Jovi
Should've Been A Cowboy
Toby Keith
Shut Up and Dance
Walk the Moon
Simple Man
Lynyrd Skynyrd
Slide
Goo Goo Dolls
Small Town Boy
Dustin Lynch
Song for Another Time
Old Dominion
Springsteen
Eric Church
Stay With Me
Sam Smith
Summer of '69
Bryan Adams
Suspicious Minds
Elvis
Sweet Caroline
Neil Diamond
Sweet Child O' Mine
Guns and Roses
Sweet Home Alabama
Lynyrd Skynyrd
Sympathy For The Devil
Rolling Stones
Take It Easy
The Eagles
Tennessee Whiskey
Chris Stapleton
Tequila
Dan & Shay
The Breakup Song
The Greg Kihn Band
The Gambler
Kenny Rogers
The Joker
Steve Miller Band
The Middle
Jimmy Eat World
The Night Looks Good On You
Jason Aldean
The Weight
The Band
Thinking Out Loud
Ed Sheeran
Three Little Birds
Bob Marley
Thunder Rolls
Garth Brooks
Times Like These
Foo Fighters
Tiny Dancer
Elton John
To Be With You
Mr. Big
To Love Somebody
Bee Gees
Toes
Zac Brown Band
Turn The Page
Bob Seger
Under My Skin
Nate Smith
Use Somebody
Kings of Leon
Valerie
Amy Winehouse
Wagon Wheel
Old Crow Medicine Show
What I Got
Sublime
Whatever She's Got
David Nail
When It Rain It Pours
Luke Combs
When You Were Young
The Killers
Where Are You Going
Dave Matthews
Whiskey Glasses
Morgan Wallen
Whiskey In The Jar
Irish Traditional
White House Road
Tyler Childers
Why Georgia
John Mayer
Wild World
Cat Stevens
Wish I Knew You
Revivalists
Wonderwall
Oasis
You And Tequilla
Kenny Chesney
You Can't Always Get What You Want
Rolling Stones
You Make It Easy
Jason Aldean
You Shook Me All Night Wrong
AC/DC
Young Dumb & Broke
Khalid
Your Love
The Outfield
Your Song
Elton John
Call or text Rick @ (615) 852-8518 or fill out the form below.
Cover Song List
Title
Artist
3am
Matchbox 20
5 O'Clock Somewhere
Alan Jackson
7 Summers
Morgan Wallen
8675309
Tommy Tutone
After Midnight
Eric Clapton / J.J. Cale
Ain't No Sunshine
Bill Withers
Ain't Worth The Whiskey
Cole Swindell
All Along The Watchtower
Jimi Hendrix
All For You
Sister Hazel
All of Me
John Legend
All Summer Long
Kid Rock
All The Small Things
Blink 182
Amanda
Boston
American Girl
Tom Petty
Angel From Montgomery
John Prine
Babylon
David Gray
Bad Bad Leroy Brown
Jim Croce
Bad Fish
Sublime
Barefoot Blue Jean Night
Jake Owen
Barely Breathing
Duncan Shiek
Beautiful Crazy
Luke Combs
Beer Never Broke My Heart
Luke Combs
Behind Blue Eyes
The Who
Black
Pearl Jam
Blister in the Sun
Violent Femmes
Body Like a Back Road
Sam Hunt
Bottom's Up
Brantley Gilbert
Boulevard of Broken Dreams
Green Day
Boys of Summer
Don Henley
Brian Wilson
Barenaked Ladies
Broken Halos
Chris Stapleton
Brown Eyed Girl
Van Morrison
Buy Me A Boat
Chris Janson
Call Me
Blondie
Can't Always Get What You Want
Rolling Stones
Can't Help Falling in Love
Elvis
Can't You See
Marshall Tucker Band
Chasing Cars
Snow Patrol
Chattahoochee
Alan Jackson
Chicken Fried
Zac Brown Band
Closer
Chainsmokers
Closing Time
Semisonic
Colder Weather
Zac Brown Band
Collide
Howie Day
Come Monday
Jimmy Buffett
Come On Get Higher
Matt Nathanson
Come Over
Sam Hunt/Kenny Chesney
Comfortably Numb
Pink Floyd
Country Girl
Luke Bryan
Country Roads
John Denver
Cover Me Up
Morgan Wallen
Craving You
Thomas Rhett
Cruise
Florida Georgia Line
Dixieland Delight
Alabama
Don't Stop Believing
Journey
Drift Away
Dobie Gray
Drink In My Hand
Eric Church
Drinkin' Problem
Midland
Drunken' Sailor
Irish Traditional
Dust On The Bottle
David Murphy
East Bound and Down
Jerry Reed
Even If It Breaks Your Heart
Eli Young Band
Everlong
Foo Fighters
Every Rose Has it's Thorn
Poison
Family Tradition
Hank Williams Jr.
Family Tradition
Hank Williams Jr.
Fast Car
Tracey Chapman
Feathered Indians
Tyler Childers
Feel It Still
Portugal The Man
Feel Like Makin' Love
Bad Company
Fire and Rain
James Taylor
Fisherman Blues
The Waterboys
Fishin' In The Dark
Nitty Gritty Dirt Band
Fly Me To The Moon
Frank Sinatra
Follow You Down
Gin Blossoms
Folsom Prison Blues
Johnny Cash
Forever Man
Eric Clapton
Found Out About You
Gin Blossoms
Free Bird
Lynyrd Skynyrd
Free Fallin'
Tom Petty
Friend of the Devil
The Grateful Dead
Friends In Low Places
Garth Brooks
Galway Girl
Steve Earle
Good Riddance
Green Day
Hard To Handle
Black Crowes
Hard To Love
Lee Brice
Have I Told You Lately That I Love You
Rod Stewart
Have You Ever Seen The Rain
CCR
Heart of Gold
Neil Young
Heartbreak On The Dance Floor
Jon Pardi
Hey Jealousy
Gin Blossoms
Hey Jude
The Beatles
Ho Hey
Lumineers
Hotel California
The Eagles
Hurricane
Luke Combs
I Don't Know About You
Chris Lane
I Remember You
Skid Row
I Shot The Sheriff
Bob Marley
I Want it That Way
Backstreet Boys
I Want You to Want Me
Cheap Trick
I'm On Fire
Bruce Springsteen
If You Could Only See
Tonic
If You Could Only See
Tonic
Imagine
John Lennon
In My Life
The Beatles
Iris
Goo Goo Dolls
Is This Love
Bob Marley
It Goes Like This
Thomas Rhett
Jessie's Girl
Rick Springfield
Knockin' On Heaven's Door
Bob Dylan
Kryptonite
3 Doors Down
Lady
Kenny Rogers
Landslide
Fleetwood Mac
Learn To Fly
Foo Fighters
Learning To Fly
Tom Petty
Let Her Cry
Hootie and the Blow Fish
Let it Be
The Beatles
Like A Stone
Audioslave
Like A Wrecking Ball
Eric Church
Living on a Prayer
Bon Jovi
Love Song
The Cure
Love Your Self
Justin Bieber
Lucille
Kenny Rogers
Margaritaville
Jimmy Buffet
Mary Jane's Last Dance
Tom Petty
Midnight Rider
Allman Brothers
Millionaire
Chris Stapleton
More Than My Home Town
Morgan Wallen
Mrs. Robinson
Lemonheads / Simon and Garfunkel
My Girl
Dylan Scott
My Kinda Party
Jason Aldean
Neon Moon
Brooks and Dunn
Old Man
Neil Young
Old Town Road
Lil' Nas X
One
U2
Only the Good Die Young
Billy Joel
Piano Man
Billy Joel
Pirate Looks At 40
Jimmy Buffet
Polly
Nirvana
Purple Rain
Prince
Ring Of Fire
Johnny Cash
Riptide
Vance Joy
Rocket Man
Elton John
Rocky Top
Osborne Brothers
Roxanne
The Police
Sand In My Boots
Morgan Wallen
Sangria
Blake Shelton
Save Tonight
Eagle Eye Cherry
Semi Charmed Life
Third Eye Blind
Shallow
Lady Gaga and Bradley Cooper
Shape Of You
Ed Sheeran
She's a Little Runaway
Bon Jovi
Should've Been A Cowboy
Toby Keith
Shut Up and Dance
Walk the Moon
Simple Man
Lynyrd Skynyrd
Slide
Goo Goo Dolls
Small Town Boy
Dustin Lynch
Song for Another Time
Old Dominion
Springsteen
Eric Church
Stay With Me
Sam Smith
Summer of '69
Bryan Adams
Suspicious Minds
Elvis
Sweet Caroline
Neil Diamond
Sweet Child O' Mine
Guns and Roses
Sweet Home Alabama
Lynyrd Skynyrd
Sympathy For The Devil
Rolling Stones
Take It Easy
The Eagles
Tennessee Whiskey
Chris Stapleton
Tequila
Dan & Shay
The Breakup Song
The Greg Kihn Band
The Gambler
Kenny Rogers
The Joker
Steve Miller Band
The Middle
Jimmy Eat World
The Night Looks Good On You
Jason Aldean
The Weight
The Band
Thinking Out Loud
Ed Sheeran
Three Little Birds
Bob Marley
Thunder Rolls
Garth Brooks
Times Like These
Foo Fighters
Tiny Dancer
Elton John
To Be With You
Mr. Big
To Love Somebody
Bee Gees
Toes
Zac Brown Band
Turn The Page
Bob Seger
Under My Skin
Nate Smith
Use Somebody
Kings of Leon
Valerie
Amy Winehouse
Wagon Wheel
Old Crow Medicine Show
What I Got
Sublime
Whatever She's Got
David Nail
When It Rain It Pours
Luke Combs
When You Were Young
The Killers
Where Are You Going
Dave Matthews
Whiskey Glasses
Morgan Wallen
Whiskey In The Jar
Irish Traditional
White House Road
Tyler Childers
Why Georgia
John Mayer
Wild World
Cat Stevens
Wish I Knew You
Revivalists
Wonderwall
Oasis
You And Tequilla
Kenny Chesney
You Can't Always Get What You Want
Rolling Stones
You Make It Easy
Jason Aldean
You Shook Me All Night Wrong
AC/DC
Young Dumb & Broke
Khalid
Your Love
The Outfield
Your Song
Elton John